AC Installation in Lubbock
High-Quality AC Replacement Services Since 1980
There are so many times when purchasing new items is an enjoyable experience. Just think back to when you last bought a car, house, or a new set of golf clubs. Those are things people look forward to buying. A new air conditioning system, however, is probably on no one's list of favorite expenditures. Yet, for those of who love being cool in the summer, it's one of those things that we must buy about every 12 to 15 years.
When it comes time to purchase a new air conditioning system, Sinclair Heating, Cooling, Plumbing, Inc is here to make the process go as smoothly as possible. You likely are not looking forward to doing tons of research to find the perfect system for your home and ensuring that you get it installed correctly. The good news is that when you work with our Lubbock AC installation specialists, you don't have to. We do all the heavy lifting for you! Our technicians will help you select the right system for your living space and make sure that it is set up for optimal performance and maximum longevity.
For quality AC installation in Lubbock, Wolfforth, or any of the surrounding areas, call Sinclair at (806) 454-9332 today.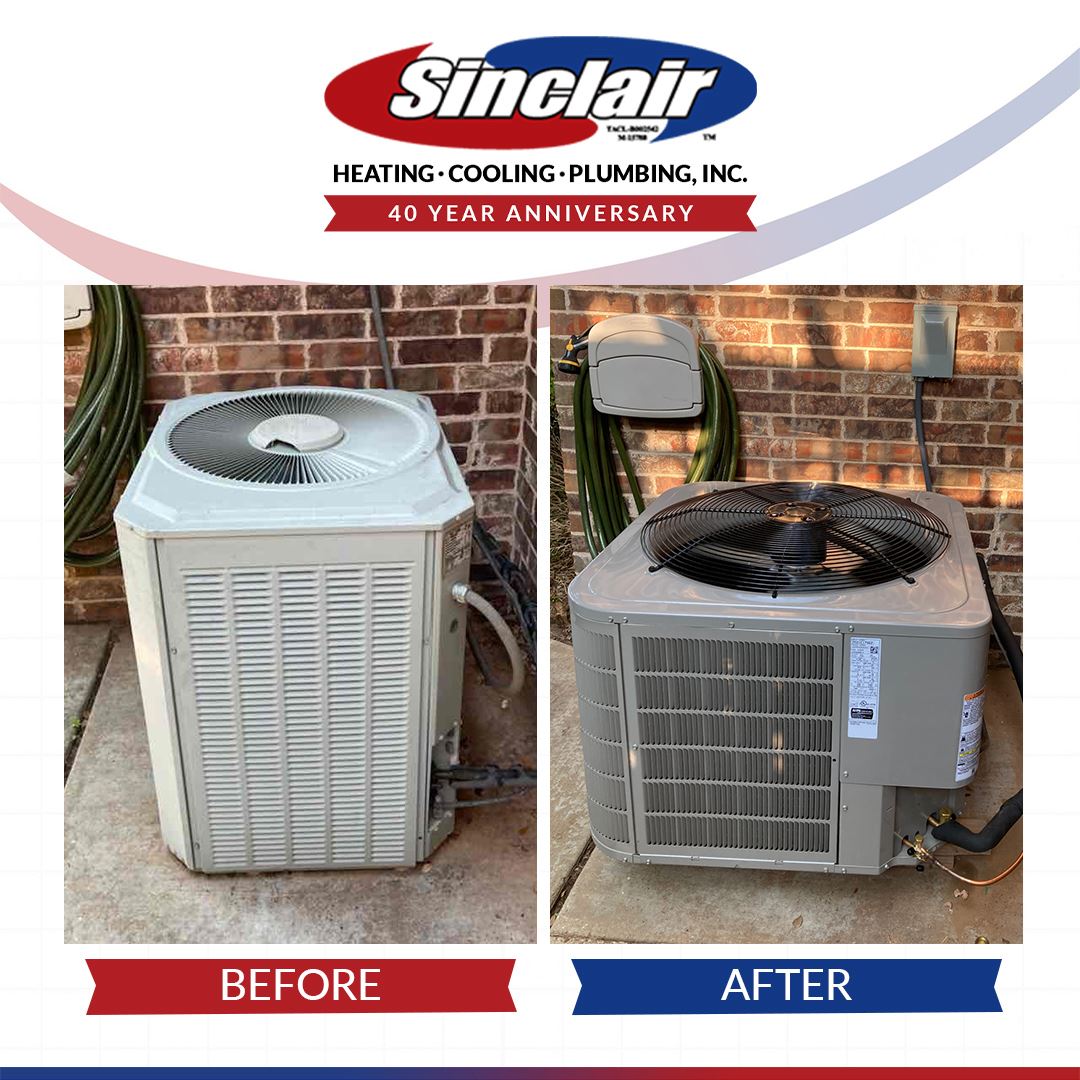 When to Replace Your AC System
Unfortunately, you can't keep repairing your home's air conditioning system forever. At some point, typically after about 10 years, your AC will stop performing as it used to. You will begin to see some common signs that it's time to replace your AC system.
It may be time for a new AC when:
Your AC is making loud banging, clanking, whining, or screeching sounds
Your air conditioner has needed a lot of repairs recently
There is water on the ground around your AC unit
Your energy bills are much higher than they were last summer
Your air conditioner fails to keep your home cool and comfortable
The rooms throughout your home do not have the same temperatures
The cost of repairs is 50% of the purchase price of a new system
Your AC is now beyond its expected life span
While these issues could be an indication that it is time to replace your air conditioning system, some problems can be resolved with a repair or maintenance service. When you call our AC replacement experts over to your home for an inspection, we will do everything we can to find a way to repair your system. However, if it seems more economical to put off repairs and instead replace your AC, we will advise you accordingly. Ultimately, the decision is up to you, and we always have your best interests in mind.
Financing is available—learn more here!
Call Now for AC Installation in Lubbock
If you suspect that it's time for a new air conditioning system, Sinclair Heating, Cooling, Plumbing, Inc is here to assist you. We offer free estimates and second opinions to maximally help you make the best decision about how to proceed with your cooling needs.
---
To request a free estimate or second opinion for AC installation in Lubbock, call (806) 454-9332 today!
---
We Care About Your Comfort Why Choose Sinclair?
Our Customers Always Come First

Our main priority is our customer's experience. We strive to do everything we can to make your service process as easy as possible, while still providing quality services at an affordable price.

Personalized HVAC & Plumbing Consultations

We provide guidance in selecting the best course of action for your HVAC or plumbing systems, by thoroughly assessing the situation and providing you with options.

Round the Clock Availability

Our NATE-certified technicians stand ready to serve all your residential or commercial indoor comfort needs 24-hours-a-day — and that's a promise.

Been in Business for Over 40 Years

We'd like to say thanks by continuing to provide the same friendly, personalized service that has kept those customers coming back season after season, year after year.