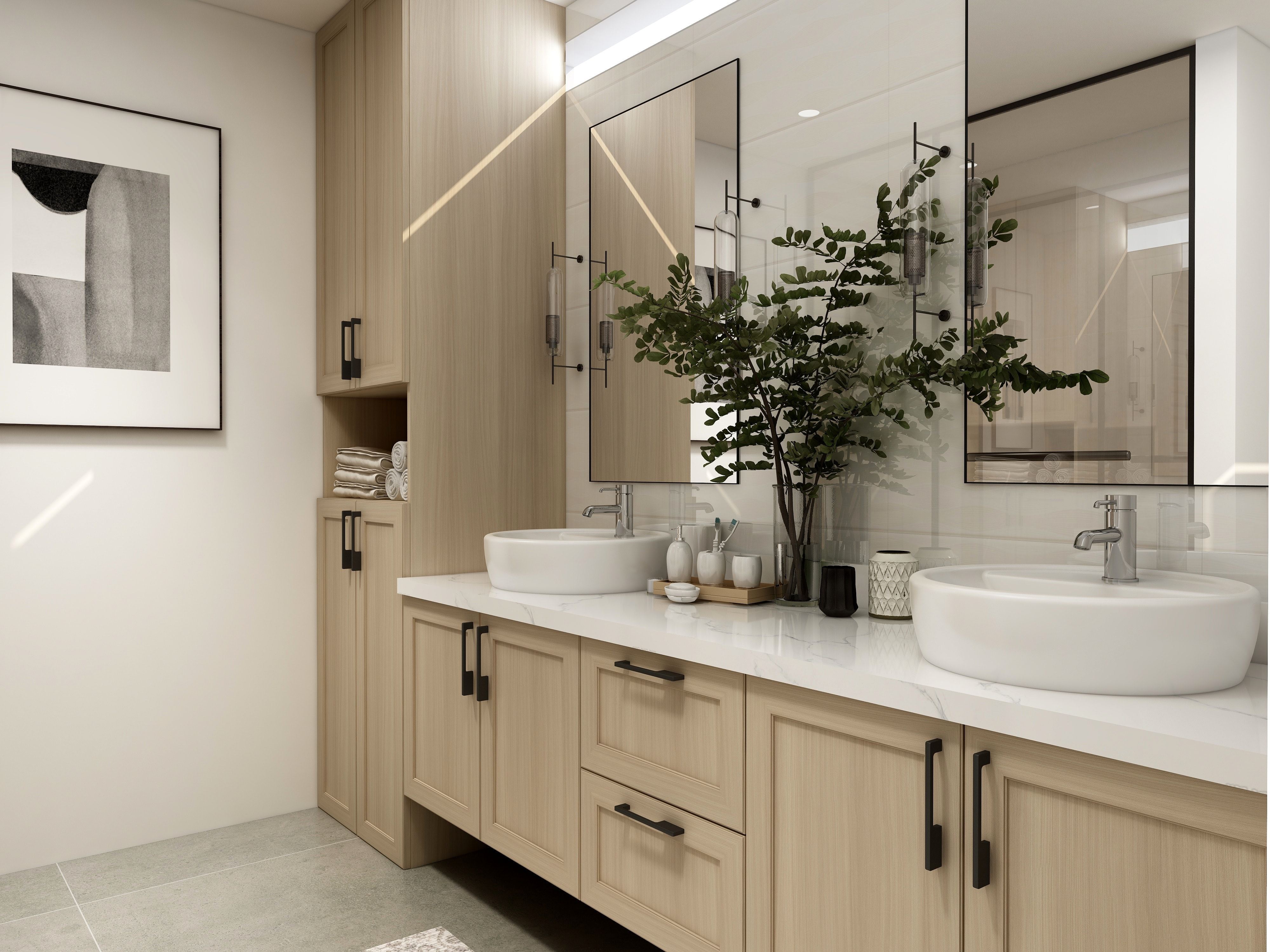 We spend a lot of time in the bathroom. Actually, we spend an average of 23-29 minutes in the bathroom every day. That is about 150 hours a year. A bathroom is where we typically start and end our day. It should be a place of peace and inspiration, not just a basic space. Imagine waking up and walking into a bathroom filled with texture, color, plants, and spa-like features, and you are automatically starting your day off in good spirits.
Affordable Upgrades
Upgrading your bathroom does not have to be an extraordinarily expensive endeavor. There are ways to refresh the space that don't involve breaking the bank.
Plants
Bringing life into your home is always a good idea, but plants in the bathroom are aesthetically pleasing while also promoting clean air. Certain plants, typically those with larger leaves, are better at purifying air.
The top three best air-purifying plants for a new plant parent include:
Spider Plant

Dracaenas

Golden Pothos
Each of these plants can purify the air and brighten up your space without requiring too much attention or care.
Wallpaper
Wallpaper is back! A design staple in the 60's and 70's has made its way back into the scene. What is great about the current evolution of wallpaper is that many are easy to apply and remove, making the decision to add wallpaper less long-term.
Not to mention, wall paper is no longer limited to wild patterns and landscapes, now you can play around with textures and plain color. Whether you decide to go bold with bright colors and bold patterns or keep things more simplistic with simple colors or engaging textures, wallpaper is a perfect way to upgrade your bathroom.
Brands like The Home Depot and Society6 make peel and stick wallpaper for a great DIY solution. There are also wallpaper installation teams that can help you to get the perfect application.
Hardware
Hardware is one area where the Sinclair Heating, Cooling, Plumbing, Inc team comes in ready to help. Swapping out your bathroom hardware for something more modern is a wonderful way to upgrade your bathroom without spending too much time and money.
Matte finish is a very trendy style. Try out black or gold matte fixtures to elevate the look of your bathroom.
Spa-like Fixtures
Another simple, but luxurious upgrade includes bathroom fixtures. Whether it is a bidet or a rain shower head, fixtures are an ideal way to turn your bathroom from a necessary space to a spa-like oasis.
Some fun spa upgrades include:
Bidets

Rain Shower Head

Shower Jets

LED Lit Mirrors

Waterproof Speaker
If you are upgrading your plumbing fixtures, Sinclair Heating, Cooling, Plumbing, Inc can provide you with brand name products and fast installation.
Luxury Upgrades
If you are looking to transform your bathroom completely, there are bathroom trends you may want to consider.
Cabinets
Natural wood is all the rage. If you are swapping out your old school painted cabinets, try installing timeless bamboo or oak cabinets with black matte hardware. So dreamy!
Flooring
Bathroom tile is an ideal way to give your bathroom a little personality.
Some current bathroom tile trends include:
Patterned

Hexagonal

Matte

Subway

Metallic
Try using different styles of tiles in different areas of your bathroom to show dimension.
Wet Room
Have you heard of a wet room? It is the concept of having a fully waterproof bathroom, allowing the shower to be the same level as the rest of the space and the walls and floors to be waterproof. It creates a very open layout to the bathroom.
Stand Alone Bathtub
A beautiful stand alone bathtub is often the centerpiece of a bathroom. Whether you dream of an antique tub or a modern bath, these stand alone fixtures are a trend that is sticking around.
Call Sinclair Heating, Cooling, Plumbing, Inc
There are so many ways, no matter your budget, to elevate your bathroom. For all your new upgrades, [Site:BusinessName} is able to work with you to make your home's plumbing system work for your new design. Sinclair Heating, Cooling, Plumbing, Inc can also assist in the installation of these new luxuries!