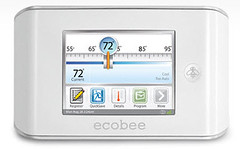 The Ecobee smart air conditioning thermostat is one of the coolest thermostats I have seen in a long time. Plus, I am a gadget geek and this thermostat is right up my alley. Basically this thermostat is an Internet based thermostat that can be controlled remotely from anywhere you have an Internet browser or iPhone or Android app!
It is an WIFI enabled thermostat that can only be accessed with a wireless connection and has tons of features on it. You can operate this thermostat on your phone just like when you are at home and there are no additional monthly fees for this service! Pretty cool! Also you can setup a program for your air conditioning system at home or from the web application.
Another really cool feature about this thermostat is that you can look at reports that show everything you would ever want to know about your air conditioning system and thermostat. You can see run times, temperature fluctuations, and be alerted (by email) when something is wrong.
For the commercial customers, if you own several different businesses or one business, you can access this thermostat at any time! You can set temperature limits and even lock out the thermostat (passwords can be enabled) if you want. This can help you save money with your energy bills and know that you still have some control over what happens at your business.
This thermostat has so much more to offer with the phone applications, web portal, and reporting. It is hard to include all of the information in a blog post, so if you are interested in a demonstration please schedule an air conditioning estimate or call 806-749-COOL (2665). There are a lot of new smart thermostats and self monitored systems coming down the line, so I will be updating you on the latest. Stay current with the latest air conditioning and plumbing updates on our Twitter page @Sinclair749Cool