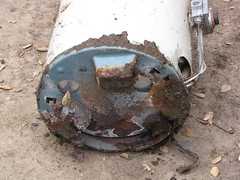 As much as homeowners would like to hope otherwise, water heaters don't last forever. Seriously, plumbing issues are never fun to deal with but emergency plumbing issues can be a nightmare. If your water heater has been chugging along for longer than you can remember, it's probably time to start researching new systems.
Time's up. Expect a gas heater to last about 10-12 years (maybe less depending on your water source) while electric systems fare a little better at 10-15 years. While your tank might hold up a while longer, planning ahead will soften the blow when the system eventually fails.
Water stains. An on-going issue with conventional water heaters is the inevitable debris and rust that collects at the bottom of the tank. Hard water contributes more trouble to the situation and eventually produces rust-colored water. Think about replacing your water heater if you notice rust stains in your tub or dark-colored water spewing from your tub filler.
Puddle jumpers. Is your hot water heater leaking? Whether you notice large puddles or just a bit of moisture under the tank, think about replacing the tank. Any sign of leakage indicates a larger problem (pictured above.) Avoid an emergency fee and schedule an appointment for a professional plumber's evaluation.
Money matters. Plain and simple older systems are not energy efficient. If your system is an older electrical heater, think about replacing it with a more energy-efficient gas system.During your research, remember to addthe cost of installation if you compare tankless systems to more conventional systems. Also, replacing your older system might qualify you for a nice little tax rebate.
Hopefully these few tips will save you a lot of plumbing anxiety. Leave a comment and let me know about your plumbing troubles.