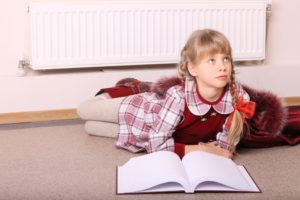 While most of the country is breathing a sigh of relief as they enjoy cooler temperatures, we Texans are still fighting the heat. Whether you're in Lubbock, Texas, or anywhere else in the state, you're likely still looking for a way to stay cool and comfortable while maintaining energy efficiency. These four fall cooling tips are guaranteed to keep you comfortable, save you money in utility costs, and prepare you for the upcoming winter.
Cool Efficiently
If you want to stay comfortable during the fall, you need to live an energy-efficient lifestyle. An efficient HVAC system lasts longer and performs better, ensuring that you get every ounce of comfort that you need.
One of the best ways to create an energy-efficient system is to use a programmable thermostat. These thermostats give you greater control over your heating and cooling by allowing you to program specific temperatures for specific times during the day, or days during the week. As the weather becomes cooler, you can adjust the programming accordingly.
For optimum comfort and efficiency on warm days, set your thermostat to 78 degrees Fahrenheit. It may sound a little warm, but every degree that you go down raises your energy usage by 6 to 8 percent. When things finally cool down, keep your thermostat around 68 degrees, since every degree warmer will increase the use of your heater. Remember, the larger the difference between the air inside and the air outside, the harder your AC or heater has to work. And the harder those systems have to work, the more efficiency decreases, and comfort is soon to follow.
When you're away from home, make good use of your programmable thermostat by keeping your home at 80 degrees, which gives your AC a bit of a break. You can program the thermostat to cool your home down during your evening commute.
Get Your AC and Heater Inspected
Fall is a great time of year to get your HVAC system inspected and maintained. The summer makes your air conditioner work very hard, which reduces efficiency and the lifespan of the system. Your heater also undergoes similar strains during the winter. So fall is the perfect time to repair any AC issues that occurred during the summer and make sure that your heater is prepared for the upcoming winter.
HVAC preventive maintenance should be a habit no matter what the season. During maintenance, professional HVAC contractors inspect your system for wear and potential need for repair. They also clean any dirty components in the system, which increases both your efficiency and indoor air quality. With regular inspection and maintenance, your HVAC system will keep you comfortable no matter the outdoor weather.
Keep Your Home Clean
You'd also be amazed by how much better your air conditioning will work if your home is kept clean. By dusting and vacuuming on a regular basis, and minimizing clutter, you will raise the efficiency of your air conditioner and bring a more open and comfortable atmosphere to your home. Give some extra TLC to areas around the indoor and outdoor portions of your HVAC system, where dust, dirt, and debris can reduce the efficiency of your system.
Use Alternative Cooling Methods
Using your air conditioner isn't the only way to stay cool during the warm Texas fall. Ceiling fans are excellent for cooling rooms, and they use much less energy than conventional air conditioning. To keep extra heat from seeping into the home, close shades and blinds. If a portion of your home is constantly facing the sun, consider planting a tree in front of the window to block the heat.
Keep Texas' heat at bay by implementing these fall cooling tips. By paying special attention to the energy efficiency of your HVAC system, you'll be sitting cool and comfortable no matter what it's like outside. We here at Sinclair Heating, Cooling, Plumbing Inc. would love to help you increase your AC efficiency. Give us a call today at 844-749-2665.