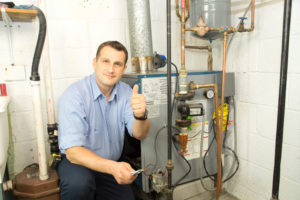 Heating technology has advanced substantially during the past few years. As a result, you'll have several options to consider when you buy a new heating system for your Abernathy, Texas, home. From variable-speed blowers to zoning systems and smart thermostat controls, take a look at six features you need in a new furnace.
Accurate Sizing
All residential heating systems start with accurate sizing. Ask any HVAC technicians from Sinclair Heating, Cooling, Plumbing Inc., and you'll quickly learn that  size matters for heating and cooling systems.
Purchasing a smaller furnace might save you a few hundred dollars at first, but those savings won't last.  Heating systems that are too small for the space struggle to keep up, operate inefficiently, and experience regular breakdowns.
If you've ever been tempted to buy an oversized furnace in hopes of heating your home more efficiently, think again. Furnaces that are too large cycle often and never quite heat your home sufficiently.
Superior Efficiency
Whether you strive to be eco-conscious or you want to save on your home heating bill, a furnace with superior efficiency is essential. To determine a home furnace's efficiency quickly, look for its annual fuel utilization efficiency (AFUE) rating. You'll typically find this rating listed on the yellow Energy Saver label on each model.
With AFUE ratings, higher is better. For example, our Bryant Legacy Line fixed-speed gas furnaces have up to 95 percent AFUE and waste little energy. To save fuel, this line has a PerfectLight hot surface igniter, which eliminates the need for a pilot light.
Variable-Speed Blower
Older furnaces tend to waste energy turning on and off often. Many newer furnaces rely on variable-speed blowers, which enable the systems to operate at a low level around the clock. When you need a boost of heat, the system kicks into gear.
Our Bryant Evolution System variable-speed gas furnaces use variable-speed technology to keep your home warm without significant temperature swings. With up to 98.3 percent AFUE, these furnaces are some of the most efficient units on the market.
Dual Heat Exchanger
When you want to make the most of the fuel you use, look for a furnace with a dual heat exchanger. Instead of relying on one heat exchanger, these systems have two. They can draw more heat from the gas they burn, keeping your home cozier for you and your family.
Zoning System
You may not easily be able to keep large homes comfortable, especially in the winter. Since heat rises, anyone occupying upstairs bedrooms might have to deal with a heat wave while you try to keep the lower level warm.
Zoning systems solve temperature inconsistencies by splitting your home into zones. A single furnace can still heat your entire home, but dampers in the duct system determine whether the furnace sends heat to a particular part of your home.
Each zone has its own thermostat, so you can easily keep temperatures under control and save energy at the same time. With a zoning system, you can turn up the heat downstairs without overheating the upstairs and make everyone happy and comfortable.
Smart Thermostat
In today's ultra-connected world, no heating system is complete without smart thermostats. These devices enable you to program a heating schedule so that your house will always be warm when you're home, but your furnace won't waste energy when you're asleep or at work.
That's not all, though. Smart thermostats link to your home's Wi-Fi network, and you can connect to them from your smartphone or tablet no matter where you are in the world. This level of connectivity allows you to easily adjust your heating schedule at a moment's notice or program vacation settings from anywhere.
Models such as the Housewise Wi-Fi Thermostat also offer in-depth energy reporting options. Reference them to see when you're using the most energy and adjust your heating schedule as necessary to lower your heating costs.
No matter which features you need, we have the ideal heating system for your home. Call Sinclair Heating, Cooling, Plumbing Inc. today to learn more about our home heating options: 844-749-2665.