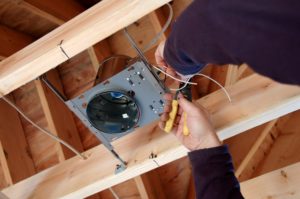 The quality of the air in your Slaton, Texas, home can go a long way toward improving your quality of life. While keeping your home clean is important, you also need to think about ventilation. Find out how fans can help augment your HVAC system to improve ventilation inside your home.
Fans and the Role of Mechanical Ventilation
According to the U.S. Environmental Protection Agency (EPA), if not enough outdoor air enters your home, indoor pollutant levels can increase, causing discomfort and potential health problems such as allergies and asthma. 
The American Society of Heating, Refrigerating, and Air Conditioning Engineers (ASHRAE) recommends that the total volume of air changes taking place per hour between indoor and outdoor or filtered air be 0.35. You can have your ventilation system tested to determine its air exchange volume.
Mechanical ventilation is one method of moving air into and out of your home. This ventilation process occurs when appliances such as exhaust fans vent air to the outdoors from a single room, normally a kitchen or bathroom. Fans and ductwork remove indoor air and distribute filtered outdoor air throughout the house.
Many people choose basic HVAC systems as the only ways they warm, cool, and ventilate their homes. But they may not realize that many of these systems do not bring fresh air inside the house. To augment your HVAC system throughout the year, use a system of fans: tabletop, window, ceiling, and kitchen and bathroom exhaust fans. Fans help move the flow of heat during the winter, circulate air conditioning during the summer, and control humidity. 
Lower Indoor Air Pollutants
Along with using fans, one way to lower levels of indoor air pollutants is to open windows when possible to let in fresh air. To take advantage of cross-ventilation, open facing and windows adjacent to one another at the same time. 
Boost your home's ventilation by making sure your HVAC system is running at peak efficiency. Contact one of our Sinclair Heating, Cooling, Plumbing services professionals to inspect, clean, and repair your central heating, cooling, and ventilation system. Call us today at 844-749-COOL (2665).