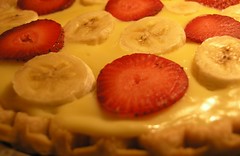 Strawberry & Banana Pie
by Beth Sinclair
1 – 9" prepared graham cracker crust or shortbread crust
1 container strawberries washed, hulled and cut in half
1 container strawberry glaze (Marie's Strawberry Glaze,
This is usually found close to the strawberries.)
2 or 3 bananas, cut into slices
1 container any kind of Cool Whip thawed
Gently mix together glaze, strawberries and bananas. Pour into crust. Put Cool Whip on top. Cover and let chill for 1 hour.