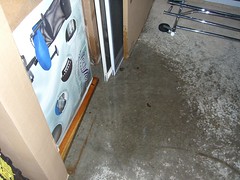 I get questions from friends and customers that want to know what to do when there is a major water leak. This is never an easy topic but I would like to shed some light on this subject so if or when this happens, you will be prepared.
1. Turn off the water to the house
The best thing to do when you find a leak is to turn the water off to the whole house. This will ensure that where-ever the leak is at, it will not continue to receive more water to leak out.To do this you will need to locate the water meter for your home (if you live in the city). They are usually in the ally and inside of a plastic or cast iron container. Once you locate the meter, remove the lid. Watch out for spiders and bugs! Locate the main shut off and use a wrench to turn the valve into the closed position.
2. Turn off the valve at the water heater
If you find that your water heater is leaking then you need to cut off the water supply to the tank. Usually there is a valve that is located above the tank and is welded into the water supply lines. Sometimes with older home these shut off valves become very fragile and can break. If this happens use tip #1 and turn the water meter off.
3. Get a fan and towels
The best step you can take after turning the water off is to put a fan in front of the water spot. This will help evaporate any water that you cannot soak up with a towel.
4. Contact Sinclair HVAC & Plumbing
This is all that I recommend to do as a homeowner because some situations are more serious than others. Water damage is something that Sinclair takes very seriously, so follow these steps and they will help eliminate unnecessary water damage. Then, schedule a call through our website or call 749-2665.
How do you react when there is a water leak? Were these tips helpful?