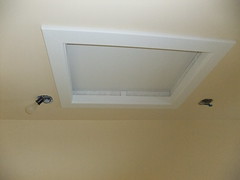 Crawl spaces and attic accesses have a big impact on your homes performance during the spring and summer months. When the summer sets in, heat can collect in your crawl space and penetrate through your roof access into your home. This means yourcooling systemhas to work harder to make up for the extra heat pouring into your home.Installing insulationbeneath your floor can help prevent this heat transfer and having the proper attic access covering can help prevent heat infiltration into the house.
Here are a few tips for installing subfloor insulation in crawl spaces and sealing your attic access:
Sealair leaksin the crawl space's ceiling (the subfloor). Leaks are often found around drains, pipes, ductwork plenum's and wiring. Anyplace the ceiling is penetrated is spot for a possible leak.
Be sure to seal and insulate any accessibleductworkin the crawl space.
If everything is dry, close the crawl space vents. Vents can suck heat and moisture into crawl spaces, which can cause problems.
Make sure and insulate around the edges of the attic access (use a thin weather guard strip or gasket)
Insulate the attic cover. Glue some insulation to the top of the cover to help heat from penetrating through the cover.
You might be surprised by how much heat is leaking into your home from an attic access or crawl space. Try some of these techniquies and let me know how they work for you. Do you have any other tips I may have missed?