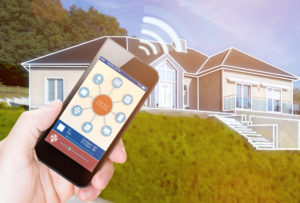 When you're at the office or on vacation, you don't want to worry about how much energy your home consumes in your absence. The best remote-access systems on the market provide peace of mind as well as convenience. To automate your Abernathy, Texas, home and make your house more efficient, explore these four benefits of remote-access systems.
Get Access With an App
Nobody enjoys exorbitant heating and cooling bills. If you dread receiving the electric company's monthly invoice, consider upgrading to a remote-access system. When your schedule changes unexpectedly or the weather forecast proves incorrect, you can change your thermostat settings remotely for maximum efficiency. 
In addition to saving money on your energy bills, you'll also reduce your home's — and your family's — carbon footprint. The less energy you use, the less the environment suffers. Remote-access systems let you change your thermostat's temperature as well as other settings. For instance, if you have a compatible whole-home dehumidifier, you can adjust your HVAC system to compensate for high humidity levels.
Manage Multiple Zones From One Device
If your home has multiple zones for your air conditioning and heating systems, you don't want to have to take a tour of your house to change each thermostat. A remote-access system gives you control over every zone from a single device. View the current settings, change future settings, adjust schedules, and perform other tasks without leaving your living-room couch.
Even if you don't have a zoned system, you can make changes to your thermostat remotely. Maybe you're working in the shed outdoors when you realize you forgot to increase the thermostat temperature. If you have your smart device handy, just pull up the app and make the necessary changes without going back to the house.
Reduce Energy Consumption for Home Security
The latest remote-access systems include functionality for more than your HVAC units. You can automate your home's door locks, web cameras, and security alarms, as well, and if you use the same manufacturer, such as Nexia, you'll enjoy better energy efficiency because all the components are designed to work together. You don't have to worry about compatibility issues that could result in increased energy consumption.
Specifically, companies like Nexia understand consumers' need for energy-efficient products. They design their products not only to work together but to extract as little energy as possible from your Abernathy home. We recommend these products because they give you the most control over your energy bills.
Get Alerts About Problems or Maintenance
When you forget to change your air filter or schedule system maintenance, your HVAC units must work harder, which means greater energy consumption. Remote-access systems generate alerts to warn you about these tasks so you don't have to rely on memory alone to take care of household chores.
Additionally, they'll let you know if they detect an emergency or mechanical failure in your home. Responding quickly to an HVAC emergency can reduce the repair costs and ensure continued energy efficiency.
Control Other Energy-Consuming Devices
Remote-access systems give you control over your home's lighting, too, if you select the right brand and model. Not only can you turn lights on and off remotely, you can also dim them. If you have a system with appliance modules, you can use the associated app to turn appliances on and off so they don't consume electricity unnecessarily.
Manage Varied Schedules
Every family has different traditions, schedules, and preferences. Maybe one family member works from home a few days a week, but never on the same schedule, or perhaps you sometimes have out-of-town guests. These circumstances don't lend themselves to set thermostat schedules.
A remote-access system lets you make adjustments on the fly. If you leave work early, access the app and raise or lower your home's thermostat setting so the indoor temperature is perfect by the time you get home.
Remote-access systems might seem like the product of a science fiction writer's imagination, but many savvy consumers have adopted them for their homes. We like helping our customers save money on their heating and cooling needs, so call Sinclair Heating, Cooling, Plumbing, Inc., at 844-749-2665 to learn more.