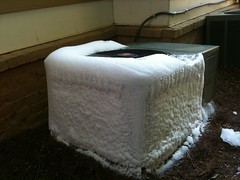 If you're like me, you want to save money wherever and whenever you can. As a homeowner, that could include "DIY" remodeling or maintenance projects. And to those, I say … "do" try this at home, as long as you have the know-how and tools to do the job right.
When it comes to maintaining and troubleshooting your HVAC system, you could save time and money by checking and replacing the filter regularly, or cleaning out your ducts to avoid dust build-up that may escape into your home.
But installing a new HVAC system? That's another story. That's a job for a licensed, experienced contractor.
Why?
It's simple – with the possible heating and air conditioning installation problems associated with do-it-yourself, you could be risking not just your new equipment but also your family's safety – in Ontario, Canada, at least 100 people have been electrocuted since 1988 because of improperly installed electrical systems.
What's more, you may not even be allowed to install an HVAC system in Texas, if you are not licensed to do so.
Technology is changing
Maybe 20 or 30 years ago, when air conditioning and heating units were simpler, more mechanical devices, installation was within the reach of a homeowner.
But today's units are electronically advanced, and require an installer familiar with the many intricate steps it takes to install one safely and properly.
Look for the license!
When searching for an installation contractor, make sure the people involved are all licensed by the state of Texas. Never try to save a few bucks by hiring so-and-so's cousin's brother, who claims he can install anything but has no real certification! Because while it's not illegal to hire an unlicensed contractor, you will be putting safety and dollars at risk if something goes wrong.
And did you know that in many cases homeowners can be held legally responsible for damage incurred that happened from an unlicensed contractor?
So why risk it?
Getting a new HVAC system represents an important investment. Why risk your home, your comfort and even your safety? Using a reputable, licensed contractor can go a long way in your ultimate satisfaction. Think of what goes into getting that license: the technician must prove that he's got the right training and experience for the job.
Beyond eliminating heating and air conditioning installation problems, a time-tested contractor will be there for the long run. From helping you maintain your system to providing emergency repair services, you'll want to know the person handling your air conditioner or furnace is capable and qualified.