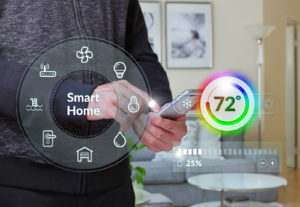 When comfort and safety are top priorities for your home in Abernathy, Texas, you can't ignore the numerous benefits that a home automation system offers. From wireless climate control to smart door locks, find out how a Nexia home automation system works for your safety and comfort.
Wireless Climate Control
If comfort is key, you'll love the wireless climate control options that Nexia home automation systems offer. After installing a Nexia hub to control the smart features in your home, the Sinclair team can connect it to a Wi-Fi enabled thermostat. These devices make temperature and air quality control as easy as possible, so you'll be comfortable in any season. With Nexia, you can program your smart thermostat and adjust the settings from anywhere, which helps you save energy, too.
Automatic Lights
It's never fun to return home from a long day at work, or a late night out with your significant other, only to find a pitch-black house. Letting your home go dark could be a security concern, too, but it isn't a risk that you have to take. Link your Nexia home automation system to a smart lighting system, and you can use the app to program a lighting schedule or turn on the lights in your home, no matter where  you are.
Motorized Blinds
Window coverings can also impact both safety and comfort. Standard curtains and blinds require you to adjust them manually, but you can open or close motorized blinds from virtually anywhere. Close the blinds to keep the hot afternoon sun out or to prevent prying eyes from looking in at night.
Smart Door Locks
If you can never remember whether you locked the door before leaving, you'll appreciate smart locks. Just log into the Nexia app to check the lock status and make adjustments as necessary. You can even let contractors or babysitters in with the press of a button on your smartphone screen.
Ready to make your home smarter and improve comfort and security at the same time? Call Sinclair Heating, Cooling, Plumbing, Inc. to learn more about our Nexia home automation systems: 844-749-2665.